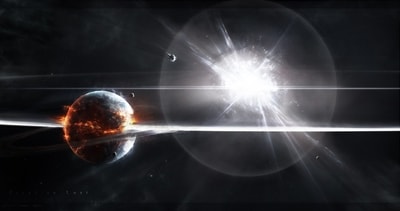 Surah At Takwir (Menggulung)
---
بِسْمِ اللَّهِ الرَّحْمَٰنِ الرَّحِيمِ
Bismillahirrahmaanirrahiim(i)
"Dengan menyebut nama Allah Yang Maha Pemurah lagi Maha Penyayang"
In the name of Allah, the Entirely Merciful, the Especially Merciful.
---
إِذَا الشَّمْسُ كُوِّرَتْ – 81:1
Idzaasy-syamsu kuwwirat
1. "Apabila matahari digulung,"
When the sun is wrapped up [in darkness]
---
وَإِذَا النُّجُومُ انكَدَرَتْ – 81:2
Wa idzaan nujuumuun kadarat
2. "dan apabila bintang-bintang berjatuhan,"
And when the stars fall, dispersing,
---
وَإِذَا الْجِبَالُ سُيِّرَتْ – 81:3
Wa idzaal jibaalu suyyirat
3. "dan apabila gunung-gunung dihancurkan,"
And when the mountains are removed
---
وَإِذَا الْعِشَارُ عُطِّلَتْ – 81:4
Wa idzaal 'isyaaru 'uth-thilat
4. "dan apabila unta-unta yang bunting ditinggalkan (tidak diperdulikan)"
And when full-term she-camels are neglected
---
وَإِذَا الْوُحُوشُ حُشِرَتْ – 81:5
Wa idzaal wuhuusyu husyirat
5. "dan apabila binatang-binatang liar dikumpulkan,"
And when the wild beasts are gathered
---
وَإِذَا الْبِحَارُ سُجِّرَتْ – 81:6
Wa idzaal bihaaru sujjirat
6. "dan apabila lautan dijadikan meluap"
And when the seas are filled with flame
---
وَإِذَا النُّفُوسُ زُوِّجَتْ – 81:7
Wa idzaannufuusu zuwwijat
7. "dan apabila ruh-ruh dipertemukan (dengan tubuh)"
And when the souls are paired
---
وَإِذَا الْمَوْءُودَةُ سُئِلَتْ – 81:8
Wa idzaal mau-uudatu su-ilat
8. "dan apabila bayi-bayi perempuan yang dikubur hidup-hidup ditanya,"
And when the girl [who was] buried alive is asked
---
بِأَيِّ ذَنبٍ قُتِلَتْ – 81:9
Bi-ayyi dzanbin qutilat
9. "karena dosa apakah dia dibunuh,"
For what sin she was killed
---
وَإِذَا الصُّحُفُ نُشِرَتْ –
81:10
Wa idzaash-shuhufu nusyirat
10. "dan apabila catatan-catatan (amal perbuatan manusia) dibuka,"
And when the pages are made public
---
وَإِذَا السَّمَاءُ كُشِطَتْ – 81:11
Wa idzaassamaa-u kusyithat
11. "dan apabila langit dilenyapkan,"
And when the sky is stripped away
---
وَإِذَا الْجَحِيمُ سُعِّرَتْ – 81:12
Wa idzaal jahiimu su'irot
12. "dan apabila neraka Jahim dinyalakan,"
And when Hellfire is set ablaze
---
وَإِذَا الْجَنَّةُ أُزْلِفَتْ –
81:13
Wa idzaal jannatu uzlifat
13. "dan apabila syurga didekatkan,"
And when Paradise is brought near,
---
عَلِمَتْ نَفْسٌ مَّا أَحْضَرَتْ – 81:14
'Alimat nafsum maa ahdharat
14. "maka tiap-tiap jiwa akan mengetahui apa yang telah dikerjakannya."
A soul will [then] know what it has brought [with it].
---
فَلَا أُقْسِمُ بِالْخُنَّسِ – 81:15
Fa laa uqsimu bil khunnas(i)
15. "Sungguh, Aku bersumpah dengan bintang-bintang,"
So I swear by the retreating stars –
---
الْجَوَارِ الْكُنَّسِ – 81:16
Al jawaaril kunnas(i)
16. "yang beredar dan terbenam,"
Those that run [their courses] and disappear –
---
وَاللَّيْلِ إِذَا عَسْعَسَ – 81:17
Wal laili idzaa 'as'as(a)
17. "demi malam apabila telah hampir meninggalkan gelapnya,"
And by the night as it closes in
---
وَالصُّبْحِ إِذَا تَنَفَّسَ – 81:18
Wash-shubhi idzaa tanaffas(a)
18. "dan demi subuh apabila fajarnya mulai menyingsing,"
And by the dawn when it breathes
---
إِنَّهُ لَقَوْلُ رَسُولٍ كَرِيمٍ – 81:19
Innahuu laqaulu rasuulin kariim(in)
19. "sesungguhnya Al Qur'aan itu benar-benar firman (Allah yang dibawa oleh) utusan yang mulia (Jibril),"
[That] indeed, the Qur'an is a word [conveyed by] a noble messenger
---
ذِي قُوَّةٍ عِندَ ذِي الْعَرْشِ مَكِينٍ – 81:20
Dzii quwwatin 'inda dziil 'arsyi makiin(in)
20. "yang mempunyai kekuatan, yang mempunyai kedudukan tinggi di sisi Allah yang mempunyai 'Arsy,"
[Who is] possessed of power and with the Owner of the Throne, secure [in position],
---
مُّطَاعٍ ثَمَّ أَمِينٍ – 81:21
Muthaa'in tsamma amiin(in)
21. "yang ditaati di sana (di alam malaikat) lagi dipercaya."
Obeyed there [in the heavens] and trustworthy.
---
وَمَا صَاحِبُكُم بِمَجْنُونٍ –
81:22
Wa maa shaahibukum bimajnuun(in)
22. "Dan temanmu (Muhammad) itu bukanlah sekali-kali orang yang gila."
And your companion is not [at all] mad.
---
وَلَقَدْ رَآهُ بِالْأُفُقِ الْمُبِينِ – 81:23
Wa laqad ra-aahu bil ufuqil mubiin(i)
23. "Dan sesungguhnya Muhammad itu melihat Jibril di ufuk yang terang."
And he has already seen Gabriel in the clear horizon.
---
وَمَا هُوَ عَلَى الْغَيْبِ بِضَنِينٍ – 81:24
Wa maa huwa 'alal ghaibi bidhaniin(in)
24. "Dan dia (Muhammad) bukanlah orang yang bakhil untuk menerangkan yang ghaib."
And Muhammad is not a withholder of [knowledge of] the unseen.
---
وَمَا هُوَ بِقَوْلِ شَيْطَانٍ رَّجِيمٍ –
81:25
Wa maa huwa biqauli syaithaanin rajiim(in)
25. "Dan Al Qur'an itu bukanlah perkataan syaitan yang terkutuk,"
And the Qur'an is not the word of a devil, expelled [from the heavens].
---
فَأَيْنَ تَذْهَبُونَ –
81:26
Fa aina tadzhabuun(a)
26. "maka ke manakah kamu akan pergi?"
إِنْ هُوَ إِلَّا ذِكْرٌ لِّلْعَالَمِينَ –
81:27
In huwa illaa dzikrul(n)-lil'aalamiin(a)
27. "Al Qur'an itu tiada lain hanyalah peringatan bagi semesta alam,"
It is not except a reminder to the worlds
---
لِمَن شَاءَ مِنكُمْ أَن يَسْتَقِيمَ – 81:28
Liman syaa-a minkum an yastaqiim(a)
28. "(yaitu) bagi siapa di antara kamu yang mau menempuh jalan yang lurus."
For whoever wills among you to take a right course.
---
وَمَا تَشَاءُونَ إِلَّا أَن يَشَاءَ اللَّهُ رَبُّ الْعَالَمِينَ –
81:29
Wa maa tasyaa-uuna illaa an yasyaa-allahu rabbul 'aalamiin(a)
29. "Dan kamu tidak dapat menghendaki (menempuh jalan itu) kecuali apabila dikehendaki Allah, Tuhan semesta alam."
And you do not will except that Allah wills – Lord of the worlds.
---
==> | Juz Amma | <==
---