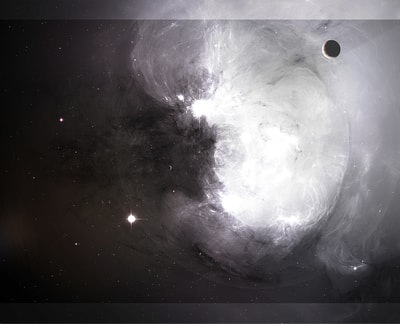 Surah An Nazi'at (Malaikat-malaikat yang mencabut)
---
بِسْمِ اللَّهِ الرَّحْمَٰنِ الرَّحِيمِ
Bismillahirrahmaanirrahiim(i)
"Dengan menyebut nama Allah Yang Maha Pemurah lagi Maha Penyayang"
In the name of Allah, the Entirely Merciful, the Especially Merciful.
---
وَالنَّازِعَاتِ غَرْقًا – 79:1
Wannaazi'aati gharqaa(n)
1. "Demi (malaikat-malaikat) yang mencabut (nyawa) dengan keras,"
By those [angels] who extract with violence
---
وَالنَّاشِطَاتِ نَشْطًا –
79:2
Wannaasyithaati nasythaa(n)
2. "dan (malaikat-malaikat) yang mencabut (nyawa) dengan lemah-lembut,"
And [by] those who remove with ease
---
وَالسَّابِحَاتِ سَبْحًا – 79:3
Wassaabihaati sabhaa(n)
3. "dan (malaikat-malaikat) yang turun dari langit dengan cepat,"
And [by] those who glide [as if] swimming
---
فَالسَّابِقَاتِ سَبْقًا – 79:4
Fassaabiqaati sabqaa(n)
4. "dan (malaikat-malaikat) yang mendahului dengan kencang,"
And those who race each other in a race
---
فَالْمُدَبِّرَاتِ أَمْرًا – 79:5
Falmudabbiraati amraa(n)
5. "dan (malaikat-malaikat) yang mengatur urusan (dunia)."
And those who arrange [each] matter,
---
يَوْمَ تَرْجُفُ الرَّاجِفَةُ – 79:6
Yauma tarjufu rraajifah(tu)
6. "(Sesungguhnya kamu akan dibangkitkan) pada hari ketika tiupan pertama menggoncang alam,"
On the Day the blast [of the Horn] will convulse [creation],
---
تَتْبَعُهَا الرَّادِفَةُ – 79:7
Tatba'uhaa rraadifah(tu)
7. "tiupan pertama itu diiringi oleh tiupan kedua."
There will follow it the subsequent [one].
---
قُلُوبٌ يَوْمَئِذٍ وَاجِفَةٌ – 79:8
Quluubun yauma-idzin waajifah(tun)
8. "Hati manusia pada waktu itu sangat takut,"
Hearts, that Day, will tremble,
---
أَبْصَارُهَا خَاشِعَةٌ – 79:9
Abshaaruhaa khaasyi'ah(tun)
9. "Pandangannya tunduk."
يَقُولُونَ أَإِنَّا لَمَرْدُودُونَ فِي الْحَافِرَةِ – 79:10
Yaquuluuna a-innaa lamarduuduuna fii lhaafirah(ti)
10. (Orang-orang kafir) berkata: "Apakah sesungguhnya kami benar-benar dikembalikan kepada kehidupan semula?,"
They are [presently] saying, "Will we indeed be returned to [our] former state [of life]?
---
أَإِذَا كُنَّا عِظَامًا نَّخِرَةً – 79:11
A-idzaa kunnaa 'izhaaman nakhirah(tan)
11. "Apakah (akan dibangkitkan juga) apabila kami telah menjadi tulang belulang yang hancur lumat?"
Even if we should be decayed bones?
---
قَالُوا تِلْكَ إِذًا كَرَّةٌ خَاسِرَةٌ – 79:12
Qaaluu tilka idzan karratun khaasirah(tun)
12. Mereka berkata: "Kalau demikian, itu adalah suatu pengembalian yang merugikan."
They say, "That, then, would be a losing return."
---
فَإِنَّمَا هِيَ زَجْرَةٌ وَاحِدَةٌ – 79:13
Fa-innamaa hiya zajratun waahidah(tun)
13. "Sesungguhnya pengembalian itu hanyalah satu kali tiupan saja,"
Indeed, it will be but one shout,
---
فَإِذَا هُم بِالسَّاهِرَةِ – 79:14
fa-idzaa hum bissaahirah(ti)
14. "maka dengan serta merta mereka hidup kembali di permukaan bumi."
And suddenly they will be [alert] upon the earth's surface.
---
هَلْ أَتَاكَ حَدِيثُ مُوسَىٰ – 79:15
Hal ataaka hadiitsu muusaa
15. "Sudah sampaikah kepadamu (ya Muhammad) kisah Musa."
Has there reached you the story of Moses? –
---
إِذْ نَادَاهُ رَبُّهُ بِالْوَادِ الْمُقَدَّسِ طُوًى – 79:16
Idz naadaahu rabbuhuu bilwaadi lmuqaddasi thuwaa
16. "Tatkala Tuhannya memanggilnya di lembah suci ialah Lembah Thuwa;"
When his Lord called to him in the sacred valley of Tuwa,
---
اذْهَبْ إِلَىٰ فِرْعَوْنَ إِنَّهُ طَغَىٰ – 79:17
Idzhab ilaa fir'auna innahuu thaghaa
17. "Pergilah kamu kepada Fir'aun, sesungguhnya dia telah melampaui batas,"
"Go to Pharaoh. Indeed, he has transgressed.
---
فَقُلْ هَل لَّكَ إِلَىٰ أَن تَزَكَّىٰ – 79:18
Faqul hal laka ilaa an tazakkaa
18. dan katakanlah (kepada Fir'aun): "Adakah keinginan bagimu untuk membersihkan diri (dari kesesatan)."
And say to him, 'Would you [be willing to] purify yourself
---
وَأَهْدِيَكَ إِلَىٰ رَبِّكَ فَتَخْشَىٰ – 79:19
Wa ahdiyaka ilaa rabbika fatakhsyaa
19. "Dan kamu akan kupimpin ke jalan Tuhanmu agar supaya kamu takut kepada-Nya?"
And let me guide you to your Lord so you would fear [Him]?'"
---
فَأَرَاهُ الْآيَةَ الْكُبْرَىٰ – 79:20
Fa-araahul aayatal kubraa
20. "Lalu Musa memperlihatkan kepadanya mukjizat yang besar."
And he showed him the greatest sign,
---
فَكَذَّبَ وَعَصَىٰ – 79:21
Fa kadzdzaba wa'ashaa
21. "Tetapi Fir´aun mendustakan dan mendurhakai."
But Pharaoh denied and disobeyed.
---
ثُمَّ أَدْبَرَ يَسْعَىٰ – 79:22
Tsumma adbara yas'aa
22. "Kemudian dia berpaling seraya berusaha menantang (Musa)."
Then he turned his back, striving.
---
فَحَشَرَ فَنَادَىٰ – 79:23
Fa hasyara fanaadaa
23. "Maka dia mengumpulkan (pembesar-pembesarnya) lalu berseru memanggil kaumnya."
And he gathered [his people] and called out
---
فَقَالَ أَنَا رَبُّكُمُ الْأَعْلَىٰ – 79:24
Fa qaala anaa rabbukumul a'laa
24. (Seraya) berkata:"Akulah tuhanmu yang paling tinggi."
And said, "I am your most exalted lord."
---
فَأَخَذَهُ اللَّهُ نَكَالَ الْآخِرَةِ وَالْأُولَىٰ – 79:25
Fa akhadzahullaahu nakaalal aakhirati wal-uulaa
25. "Maka Allah mengazabnya dengan azab di akhirat dan azab di dunia."
So Allah seized him in exemplary punishment for the last and the first [transgression].
---
إِنَّ فِي ذَٰلِكَ لَعِبْرَةً لِّمَن يَخْشَىٰ – 79:26
Inna fii dzaalika la'ibratan liman yakhsyaa
26. "Sesungguhnya pada yang demikian itu terdapat pelajaran bagi orang yang takut (kepada Tuhannya)."
Indeed in that is a warning for whoever would fear [ Allah ].
---
أَأَنتُمْ أَشَدُّ خَلْقًا أَمِ السَّمَاءُ ۚ بَنَاهَا – 79:27
A-antum asyaddu khalqan ami ssamaau banaahaa
27. "Apakah kamu lebih sulit penciptaanya ataukah langit? Allah telah membinanya,"
Are you a more difficult creation or is the heaven? Allah constructed it.
---
رَفَعَ سَمْكَهَا فَسَوَّاهَا – 79:28
Rafa'a samkahaa fasawwaahaa
28. "Dia meninggikan bangunannya lalu menyempurnakannya,"
He raised its ceiling and proportioned it.
---
وَأَغْطَشَ لَيْلَهَا وَأَخْرَجَ ضُحَاهَا – 79:29
Wa-aghthasya laylahaa wa akhraja dhuhaahaa
29. "dan Dia menjadikan malamnya gelap gulita, dan menjadikan siangnya terang benderang."
And He darkened its night and extracted its brightness.
---
وَالْأَرْضَ بَعْدَ ذَٰلِكَ دَحَاهَا – 79:30
Wal ardha ba'da dzaalika dahaahaa
30. "Dan bumi sesudah itu dihamparkan-Nya."
And after that He spread the earth.
---
أَخْرَجَ مِنْهَا مَاءَهَا وَمَرْعَاهَا – 79:31
Akhraja minhaa maa-ahaa wamar'aahaa
31. "Ia memancarkan daripadanya mata airnya, dan (menumbuhkan) tumbuh-tumbuhannya."
He extracted from it its water and its pasture,
---
وَالْجِبَالَ أَرْسَاهَا – 79:32
Wal jibaala arsaahaa
32. "Dan gunung-gunung dipancangkan-Nya dengan teguh,"
And the mountains He set firmly
---
مَتَاعًا لَّكُمْ وَلِأَنْعَامِكُمْ – 79:33
Mataa'an lakum wali-an'aamikum
33. "(semua itu) untuk kesenanganmu dan untuk binatang-binatang ternakmu."
As provision for you and your grazing livestock.
---
فَإِذَا جَاءَتِ الطَّامَّةُ الْكُبْرَىٰ – 79:34
Fa idzaa jaa-ati ththaammatul kubraa
34. "Maka apabila malapetaka yang sangat besar (hari kiamat) telah datang."
But when there comes the greatest Overwhelming Calamity –
---
يَوْمَ يَتَذَكَّرُ الْإِنسَانُ مَا سَعَىٰ – 79:35
Yauma yatadzakkarul insaanu maa sa'aa
35. "Pada hari (ketika) manusia teringat akan apa yang telah dikerjakannya,"
The Day when man will remember that for which he strove,
---
وَبُرِّزَتِ الْجَحِيمُ لِمَن يَرَىٰ – 79:36
Waburrizati ljahiimu liman yaraa
36. "dan diperlihatkan neraka dengan jelas kepada setiap orang yang melihat."
And Hellfire will be exposed for [all] those who see –
---
فَأَمَّا مَن طَغَىٰ – 79:37
Fa-ammaa man thaghaa
37. "Adapun orang yang melampaui batas,"
So as for he who transgressed
---
وَآثَرَ الْحَيَاةَ الدُّنْيَا – 79:38
Wa-aatsara lhayaata ddunyaa
38. "dan lebih mengutamakan kehidupan dunia,"
And preferred the life of the world,
---
فَإِنَّ الْجَحِيمَ هِيَ الْمَأْوَىٰ – 79:39
fa-innal jahiima hiyal ma`waa
39. "maka sesungguhnya nerakalah tempat tinggal(nya)."
Then indeed, Hellfire will be [his] refuge.
---
وَأَمَّا مَنْ خَافَ مَقَامَ رَبِّهِ وَنَهَى النَّفْسَ عَنِ الْهَوَىٰ – 79:40
Wa amama man khaafa maqaama rabbihi wanahaa nnafsa 'anil hawaa
40. "Dan adapun orang-orang yang takut kepada kebesaran Tuhannya dan menahan diri dari keinginan hawa nafsunya,"
But as for he who feared the position of his Lord and prevented the soul from [unlawful] inclination,
---
فَإِنَّ الْجَنَّةَ هِيَ الْمَأْوَىٰ – 79:41
fa innal jannata hiyal ma`waa
41. "maka sesungguhnya syurgalah tempat tinggal(nya)."
Then indeed, Paradise will be [his] refuge.
---
يَسْأَلُونَكَ عَنِ السَّاعَةِ أَيَّانَ مُرْسَاهَا – 79:42
Yas-aluunaka 'ani ssaa'ati ayyaana mursaahaa
42. "(Orang-orang kafir) bertanya kepadamu (Muhammad) tentang hari kebangkitan, kapankah terjadinya?,"
They ask you, [O Muhammad], about the Hour: when is its arrival?
---
فِيمَ أَنتَ مِن ذِكْرَاهَا – 79:43
Fiima anta min dzikraahaa
43. "Siapakah kamu (maka) dapat menyebutkan (waktunya)?"
In what [position] are you that you should mention it?
---
إِلَىٰ رَبِّكَ مُنتَهَاهَا – 79:44
Ilaa rabbika muntahaahaa
44. "Kepada Tuhanmulah dikembalikan kesudahannya (ketentuan waktunya)."
To your Lord is its finality.
---
إِنَّمَا أَنتَ مُنذِرُ مَن يَخْشَاهَا – 79:45
Innamaa anta mundziru man yakhsyaahaa
45. "Kamu hanyalah pemberi peringatan bagi siapa yang takut kepadanya (hari berbangkit)"
You are only a warner for those who fear it.
---
كَأَنَّهُمْ يَوْمَ يَرَوْنَهَا لَمْ يَلْبَثُوا إِلَّا عَشِيَّةً أَوْ ضُحَاهَا – 79:46
Ka-annahum yauma yaraunahaa lam yalbatsuu illaa 'asyiyyatan au dhuhaahaa
46. "Pada hari mereka melihat hari berbangkit itu, mereka merasa seakan-akan tidak tinggal (di dunia) melainkan (sebentar saja) di waktu sore atau pagi hari."
It will be, on the Day they see it, as though they had not remained [in the world] except for an afternoon or a morning thereof.
---
==> | Juz Amma | <==
---