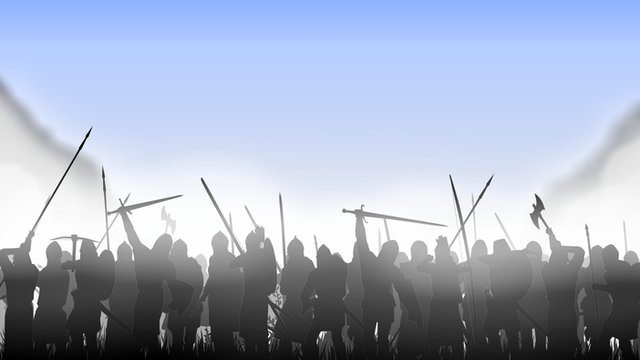 Surah An Nasr (Pertolongan)
---
بِسْمِ اللَّهِ الرَّحْمَٰنِ الرَّحِيمِ
Bismillahirrahmaanirrahiim(i)
"Dengan menyebut nama Allah Yang Maha Pemurah lagi Maha Penyayang"
In the name of Allah, the Entirely Merciful, the Especially Merciful.
---
إِذَا جَاءَ نَصْرُ اللَّهِ وَالْفَتْحُ – 110:1
Idzaa jaa-a nashrullahi wal fath(u)
1. "Apabila telah datang pertolongan Allah dan kemenangan,"
When the victory of Allah has come and the conquest,
---
وَرَأَيْتَ النَّاسَ يَدْخُلُونَ فِي دِينِ اللَّهِ أَفْوَاجًا – 110:2
Wa ra-aitan naasa yadkhuluuna fii diinillahi afwaajaa(n)
2. "dan kamu lihat manusia masuk agama Allah dengan berbondong-bondong,"
And you see the people entering into the religion of Allah in multitudes,
---
فَسَبِّحْ بِحَمْدِ رَبِّكَ وَاسْتَغْفِرْهُ ۚ إِنَّهُ كَانَ تَوَّابًا – 110:3
Fasabbih bihamdi rabbika waastaghfir-hu, innahuu kaana tawwaabaa(n)
3. "maka bertasbihlah dengan memuji Tuhanmu dan mohonlah ampun kepada-Nya. Sesungguhnya Dia adalah Maha Penerima taubat."
Then exalt [Him] with praise of your Lord and ask forgiveness of Him. Indeed, He is ever Accepting of repentance.
---
==> | Juz Amma | <==
---
---
---
Terimakasih sudah mengunjungi situs kami. Jika terdapat kesalahan penulisan pada artikel atau link rusak, menampilkan iklan tidak pantas dan masalah lainnya, mohon laporkan kepada Admin Web (Pastikan memberitahukan link Artikel yang dimaksud). Atau bagi anda yang ingin memberikan kritik dan saran silahkan kirimkan pesan melalui kontak form di halaman Contact Us.
---