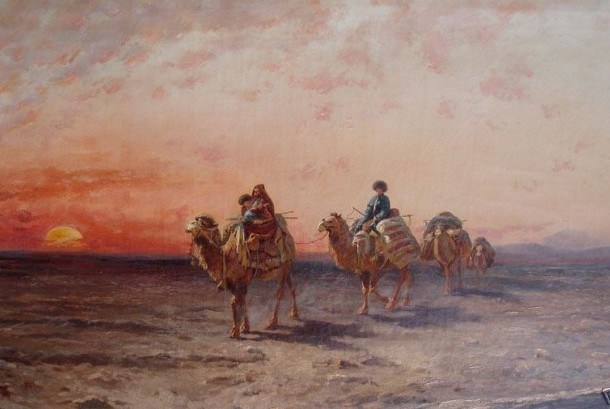 Surah Al Quraisy (Suku Quraisy)
---
بِسْمِ اللَّهِ الرَّحْمَٰنِ الرَّحِيمِ
Bismillahirrahmaanirrahiim(i)
"Dengan menyebut nama Allah Yang Maha Pemurah lagi Maha Penyayang"
In the name of Allah, the Entirely Merciful, the Especially Merciful.
---
لِإِيلَافِ قُرَيْشٍ – 106:1
Li-iilaafi quraisyin
1. "Karena kebiasaan orang-orang Quraisy,"
For the accustomed security of the Quraysh –
---
إِيلَافِهِمْ رِحْلَةَ الشِّتَاءِ وَالصَّيْفِ – 106:2
Ilaafihim rihlatasy-syitaa-i wash-shaif(i)
2. "(yaitu) kebiasaan mereka bepergian pada musim dingin dan musim panas."
Their accustomed security [in] the caravan of winter and summer –
---
فَلْيَعْبُدُوا رَبَّ هَٰذَا الْبَيْتِ –
106:3
Falya'buduu rabba haadzal bait(i)
3. "Maka hendaklah mereka menyembah Tuhan Pemilik rumah ini (Ka'bah)."
Let them worship the Lord of this House,
---
الَّذِي أَطْعَمَهُم مِّن جُوعٍ وَآمَنَهُم مِّنْ خَوْفٍ –
106:4
Al ladzii ath'amahum minjuu'in wa aamanahum min khauf(i)
4. "Yang telah memberi makanan kepada mereka untuk menghilangkan lapar dan mengamankan mereka dari ketakutan."
Who has fed them, [saving them] from hunger and made them safe, [saving them] from fear.
---
==> | Juz Amma | <==
---