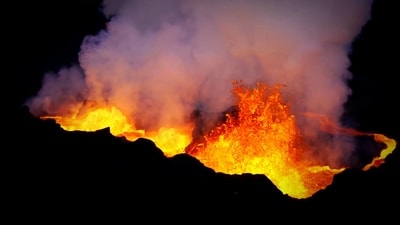 Surah Al Lahab (Gejolak Api)
---
بِسْمِ اللَّهِ الرَّحْمَٰنِ الرَّحِيمِ
Bismillahirrahmaanirrahiim(i)
"Dengan menyebut nama Allah Yang Maha Pemurah lagi Maha Penyayang"
In the name of Allah, the Entirely Merciful, the Especially Merciful.
---
تَبَّتْ يَدَا أَبِي لَهَبٍ وَتَبَّ – 111:1

Tabbat yadaa abii lahabiw watabb(a)
1. "Binasalah kedua tangan Abu Lahab dan sesungguhnya dia akan binasa."
May the hands of Abu Lahab be ruined, and ruined is he.
---
مَا أَغْنَىٰ عَنْهُ مَالُهُ وَمَا كَسَبَ –

111:2
Maa aghnaa 'anhumaa luhu wa maa kasab(a)
2. "Tidaklah berfaedah kepadanya harta bendanya dan apa yang ia usahakan."
His wealth will not avail him or that which he gained.
---
سَيَصْلَىٰ نَارًا ذَاتَ لَهَبٍ – 111:3
Sayashlaa naaran dzaata lahab(in)
3. "Kelak dia akan masuk ke dalam api yang bergejolak."
He will [enter to] burn in a Fire of [blazing] flame
---
وَامْرَأَتُهُ حَمَّالَةَ الْحَطَبِ – 111:4
waamra-atuhu hammaalatatal hatahab(i)
4. "Dan (begitu pula) istrinya, pembawa kayu bakar."
And his wife [as well] – the carrier of firewood.
---
فِي جِيدِهَا حَبْلٌ مِّن مَّسَدٍ – 111:5
Fii jiidihaa hablun min masad(i)
5. "Yang di lehernya ada tali dari sabut."
Around her neck is a rope of [twisted] fiber.
---
==> | Juz Amma | <==
---