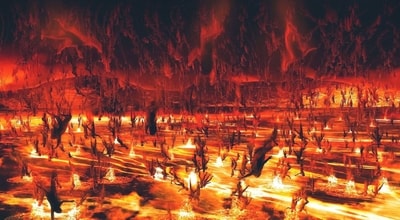 Surah Al Ghashiyah (Hari pembalasan)
---
بِسْمِ اللَّهِ الرَّحْمَٰنِ الرَّحِيمِ
Bismillahirrahmaanirrahiim(i)
"Dengan menyebut nama Allah Yang Maha Pemurah lagi Maha Penyayang"
In the name of Allah, the Entirely Merciful, the Especially Merciful.
---
هَلْ أَتَاكَ حَدِيثُ الْغَاشِيَةِ – 88:1
Hal ataaka hadiitsul ghaasyiyah(ti)
1. "Sudah datangkah kepadamu berita (tentang) hari pembalasan?"
Has there reached you the report of the Overwhelming [event]?
---
وُجُوهٌ يَوْمَئِذٍ خَاشِعَةٌ – 88:2
Wujuuhun yauma-idzin khaasyi'ah(tun)
2. "Banyak muka pada hari itu tunduk terhina,"
[Some] faces, that Day, will be humbled,
---
عَامِلَةٌ نَّاصِبَةٌ – 88:3
'Aamilatun naashibah(tun)
3. "bekerja keras lagi kepayahan,"
Working [hard] and exhausted.
---
تَصْلَىٰ نَارًا حَامِيَةً – 88:4
Tashlaa naaran haamiyatan
4. "memasuki api yang sangat panas (neraka),"
They will [enter to] burn in an intensely hot Fire.
---
تُسْقَىٰ مِنْ عَيْنٍ آنِيَةٍ – 88:5
Tusqaa min 'ainin aaniyah(tin)
5. "diberi minum (dengan air) dari sumber yang sangat panas."
They will be given drink from a boiling spring.
---
لَّيْسَ لَهُمْ طَعَامٌ إِلَّا مِن ضَرِيعٍ – 88:6
Laisa lahum tha'aamun illaa min dharii')in
6. "Mereka tiada memperoleh makanan selain dari pohon yang berduri,"
For them there will be no food except from a poisonous, thorny plant
---
لَّا يُسْمِنُ وَلَا يُغْنِي مِن جُوعٍ – 88:7
Laa yusminu walaa yughnii min juu'(in)
7. "yang tidak menggemukkan dan tidak pula menghilangkan lapar."
Which neither nourishes nor avails against hunger.
---
وُجُوهٌ يَوْمَئِذٍ نَّاعِمَةٌ – 88:8
Wujuuhun yauma-idzin naa'imah(tun)
8. "Banyak muka pada hari itu berseri-seri,"
[Other] faces, that Day, will show pleasure.
---
لِّسَعْيِهَا رَاضِيَةٌ – 88:9
Lisa'yihaa raadhiyah(tun)
9. "merasa senang karena usahanya,"
With their effort [they are] satisfied
---
فِي جَنَّةٍ عَالِيَةٍ – 88:10
Fii jannatin 'aaliyah(tin)
10. "dalam syurga yang tinggi,"
In an elevated garden,
---
لَّا تَسْمَعُ فِيهَا لَاغِيَةً – 88:11
Laa tasma'u fiihaa laaghiyah(tan)
11." tidak kamu dengar di dalamnya perkataan yang tidak berguna."
Wherein they will hear no unsuitable speech.
---
فِيهَا عَيْنٌ جَارِيَةٌ – 88:12
Fiihaa 'ainun jaariyah(tun)
12. Di dalamnya ada mata air yang mengalir."
Within it is a flowing spring.
---
فِيهَا سُرُرٌ مَّرْفُوعَةٌ – 88:13
Fiihaa sururun marfuu'ah(tun)
13. "Di dalamnya ada takhta-takhta yang ditinggikan,"
Within it are couches raised high
---
وَأَكْوَابٌ مَّوْضُوعَةٌ – 88:14
Wa-akwaabun maudhuu'ah(tun)
14. "dan gelas-gelas yang terletak (di dekatnya),"
And cups put in place
---
وَنَمَارِقُ مَصْفُوفَةٌ – 88:15
Wanamaariqu mashfuufah(tun)
15. "dan bantal-bantal sandaran yang tersusun,"
And cushions lined up
---
وَزَرَابِيُّ مَبْثُوثَةٌ – 88:16
Wazaraabiyyu mabtsuutsah(tun)
16. "dan permadani-permadani yang terhampar."
And carpets spread around.
---
أَفَلَا يَنظُرُونَ إِلَى الْإِبِلِ كَيْفَ خُلِقَتْ – 88:17
Afalaa yanzhuruuna ilal ibili kaifa khuliqat
17. "Maka apakah mereka tidak memperhatikan unta bagaimana dia diciptakan,"
Then do they not look at the camels – how they are created?
---
وَإِلَى السَّمَاءِ كَيْفَ رُفِعَتْ – 88:18
Wa ilas samaa-i kaifa rufi'at
18. "Dan langit, bagaimana ia ditinggikan?"
And at the sky – how it is raised?
---
وَإِلَى الْجِبَالِ كَيْفَ نُصِبَتْ – 88:19
Wa ilal jibaali kaifa nushibat
19. "Dan gunung-gunung bagaimana ia ditegakkan?"
And at the mountains – how they are erected?
---
وَإِلَى الْأَرْضِ كَيْفَ سُطِحَتْ – 88:20
Wa ilal ardhi kaifa suthihat
20. "Dan bumi bagaimana ia dihamparkan?"
And at the earth – how it is spread out?
---
فَذَكِّرْ إِنَّمَا أَنتَ مُذَكِّرٌ – 88:21
Fadzakkir innamaa anta mudzakkir(un)
21. "Maka berilah peringatan, karena sesungguhnya kamu hanyalah orang yang memberi peringatan."
So remind, [O Muhammad]; you are only a reminder.
---
لَّسْتَ عَلَيْهِم بِمُصَيْطِرٍ – 88:22
Lasta 'alaihim  bimushaithir(in)
22. "Kamu bukanlah orang yang berkuasa atas mereka,"
You are not over them a controller.
---
إِلَّا مَن تَوَلَّىٰ وَكَفَرَ – 88:23
Illaa man tawalla wakafar(a)
23. "tetapi orang yang berpaling dan kafir,"
However, he who turns away and disbelieves –
---
فَيُعَذِّبُهُ اللَّهُ الْعَذَابَ الْأَكْبَرَ – 88:24
Fayu'adz-dzibuhullahul 'adzaabal akbar(a)
24. "maka Allah akan mengazabnya dengan azab yang besar."
Then Allah will punish him with the greatest punishment.
---
إِنَّ إِلَيْنَا إِيَابَهُمْ – 88:25
Inna ilainaa iyaabahum
25. "Sesungguhnya kepada Kami-lah kembali mereka,"
Indeed, to Us is their return.
---
ثُمَّ إِنَّ عَلَيْنَا حِسَابَهُم – 88:26
Tsumma inna 'alainaa hisaabahum
26. "kemudian sesungguhnya kewajiban Kami-lah menghisab mereka."
Then indeed, upon Us is their account.
---
==> | Juz Amma | <==
---