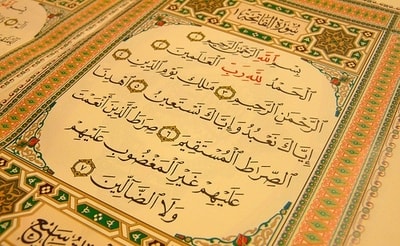 Surah Al Fatihah
---
بِسْمِ

 

اللّهِ

 

الرَّحْمَنِ

 

الرَّحِيْمِ
Bismillahirrahmaanirrahiim(i)
Dengan nama Allah Yang Maha Pengasih, Maha Penyayang
In the name of Allah, the Entirely Merciful, the Especially Merciful. (1:1)
---
الْحَمْدُ لِلَّهِ رَبِّ الْعَالَمِينَ – 1:2
Alhamdu lilla_hi rabbil 'a_lamin(a). 
Segala puji bagi Allah, Tuhan seluruh alam,
[All] praise is [due] to Allah, Lord of the worlds (1:2)
---
الرَّحْمَٰنِ الرَّحِيمِ – 1:3
Ar Rahmaanirrahiim(i)
Yang Maha Pengasih, Maha Penyayang,
The Entirely Merciful, the Especially Merciful, (1:3)
---
مَالِكِ يَوْمِ الدِّينِ – 1:4
Maaliki yaumiddiin(i)
Pemilik hari pembalasan.
Sovereign of the Day of Recompense. (1:4)
---
إِيَّاكَ نَعْبُدُ وَإِيَّاكَ نَسْتَعِينُ – 1:5
Iyyaaka na'budu wa iyyaaka nasta'iin(u)
Hanya kepada Engkaulah kami menyembah dan hanya kepada Engkaulah kami mohon pertolongan.
It is You we worship and You we ask for help.
---
اهْدِنَا الصِّرَاطَ الْمُسْتَقِيمَ – 1:6
Ihdinash-shirraatal musthaqiim(i)
Tunjukilah kami jalan yang lurus
Guide us to the straight path
---
صِرَاطَ الَّذِينَ أَنْعَمْتَ عَلَيْهِمْ غَيْرِ الْمَغْضُوبِ عَلَيْهِمْ وَلَا الضَّالِّينَ – 1:7
Shiraathal ladziina an'amta 'alaihim ghairil maghduubi 'alaihim waladh-dhaalliin(a)
(yaitu) jalan orang-orang yang telah Engkau beri nikmat kepadanya; bukan (jalan) mereka yang dimurkai, dan bukan (pula jalan) mereka yang sesat.
The path of those upon whom You have bestowed favor, not of those who have evoked [Your] anger or of those who are astray. (1:7)
---
==> | Juz Amma | <==
---