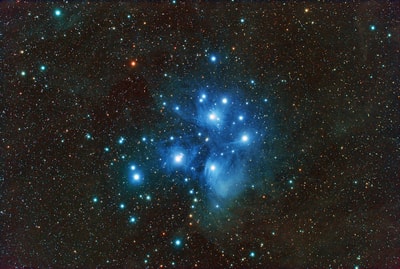 Surah Al Buruj (Gugusan bintang)
---
بِسْمِ اللَّهِ الرَّحْمَٰنِ الرَّحِيمِ
Bismillahirrahmaanirrahiim(i)
"Dengan menyebut nama Allah Yang Maha Pemurah lagi Maha Penyayang"
In the name of Allah, the Entirely Merciful, the Especially Merciful.
---
وَالسَّمَاءِ ذَاتِ الْبُرُوجِ – 85:1
Wassamaa-i dzaatil buruuj(i)
1. "Demi langit yang mempunyai gugusan bintang,"
By the sky containing great stars
---
وَالْيَوْمِ الْمَوْعُودِ – 85:2
Wal yaumil mau'uud(i)
2. "dan hari yang dijanjikan,"
And [by] the promised Day
---
وَشَاهِدٍ وَمَشْهُودٍ – 85:3
Wasyaahidin wamasyhuud(in)
3. "dan yang menyaksikan dan yang disaksikan."
And [by] the witness and what is witnessed,
---
قُتِلَ أَصْحَابُ الْأُخْدُودِ – 85:4
Qutila ashhaabul ukhduud(i)
4. "Binasa dan terlaknatlah orang-orang yang membuat parit,"
Cursed were the companions of the trench
---
النَّارِ ذَاتِ الْوَقُودِ – 85:5
Annaari dzaatil waquud(i)
5. "yang berapi (dinyalakan dengan) kayu bakar,"
[Containing] the fire full of fuel,
---
إِذْ هُمْ عَلَيْهَا قُعُودٌ – 85:6
Idz hum 'alaihaa qu'uud(un)
6. "ketika mereka duduk di sekitarnya,"
When they were sitting near it
---
وَهُمْ عَلَىٰ مَا يَفْعَلُونَ بِالْمُؤْمِنِينَ شُهُودٌ – 85:7
Wa hum 'alaa maa yaf'aluuna bil mu'miniina syuhuud(un)
7. "sedang mereka menyaksikan apa yang mereka perbuat terhadap orang-orang yang beriman."
And they, to what they were doing against the believers, were witnesses.
---
وَمَا نَقَمُوا مِنْهُمْ إِلَّا أَن يُؤْمِنُوا بِاللَّهِ الْعَزِيزِ الْحَمِيدِ – 85:8
Wa maa naqamuu minhum illaa an yu'minuu billahil 'aziizil hamiid(i)
8. "Dan mereka tidak menyiksa orang-orang mukmin itu melainkan karena orang-orang mukmin itu beriman kepada Allah Yang Maha Perkasa lagi Maha Terpuji,"
And they resented them not except because they believed in Allah, the Exalted in Might, the Praiseworthy,
---
الَّذِي لَهُ مُلْكُ السَّمَاوَاتِ وَالْأَرْضِ ۚ وَاللَّهُ عَلَىٰ كُلِّ شَيْءٍ شَهِيدٌ – 85:9
Al-ladzii lahu mulkus-samaawaati wal ardhi wallahu 'alaa kulli syai-in syahiid(un)
9. "Yang mempunyai kerajaan langit dan bumi; dan Allah Maha Menyaksikan segala sesuatu."
To whom belongs the dominion of the heavens and the earth. And Allah, over all things, is Witness.
---
إِنَّ الَّذِينَ فَتَنُوا الْمُؤْمِنِينَ وَالْمُؤْمِنَاتِ ثُمَّ لَمْ يَتُوبُوا فَلَهُمْ عَذَابُ جَهَنَّمَ وَلَهُمْ عَذَابُ الْحَرِيقِ – 85:10
Innal-ladziina fatanuul mu'miniina wal mu'minaati tsumma lam yatuubuu falahum 'adzaabu jahannama walahum 'adzaabul hariiq(i)
10. "Sesungguhnya orang-orang yang mendatangkan cobaan [1568] kepada orang-orang yang mukmin laki-laki dan perempuan kemudian mereka tidak bertaubat, maka bagi mereka azab Jahannam dan bagi mereka azab (neraka) yang membakar."
Indeed, those who have tortured the believing men and believing women and then have not repented will have the punishment of Hell, and they will have the punishment of the Burning Fire.
---
إِنَّ الَّذِينَ آمَنُوا وَعَمِلُوا الصَّالِحَاتِ لَهُمْ جَنَّاتٌ تَجْرِي مِن تَحْتِهَا الْأَنْهَارُ ۚ ذَٰلِكَ الْفَوْزُ الْكَبِيرُ – 85:11
Innal-ladziina aamanuu wa'amiluush-shaalihaati lahum jannaatun tajrii min tahtihaal anhaaru dzaalikal fauzul kabiir(u)
11. "Sesungguhnya orang-orang yang beriman dan mengerjakan amal-amal yang saleh bagi mereka surga yang mengalir di bawahnya sungai-sungai; itulah keberuntungan yang besar."
Indeed, those who have believed and done righteous deeds will have gardens beneath which rivers flow. That is the great attainment.
---
إِنَّ بَطْشَ رَبِّكَ لَشَدِيدٌ – 85:12
Inna bathsya rabbika lasyadiid(un)
12. "Sesungguhnya azab Tuhanmu benar-benar keras."
Indeed, the vengeance of your Lord is severe.
---
إِنَّهُ هُوَ يُبْدِئُ وَيُعِيدُ – 85:13
Innahuu huwa yubdi-u wayu'iid(u)
13. "Sesungguhnya Dia-lah Yang menciptakan (makhluk) dari permulaan dan menghidupkannya (kembali)."
Indeed, it is He who originates [creation] and repeats.
---
وَهُوَ الْغَفُورُ الْوَدُودُ – 85:14
Wa huwal ghafuurul waduud(u)
14. "Dia-lah Yang Maha Pengampun lagi Maha Pengasih,"
And He is the Forgiving, the Affectionate,
---
ذُو الْعَرْشِ الْمَجِيدُ – 85:15
Dzuul 'arsyil majiid(u)
15. yang mempunyai 'Arsy, lagi Maha Mulia,"
Honorable Owner of the Throne,
---
فَعَّالٌ لِّمَا يُرِيدُ – 85:16
Fa'_'aalun limaa yuriid(u)
16. "Maha Kuasa berbuat apa yang dikehendaki-Nya."
Effecter of what He intends.
---
هَلْ أَتَاكَ حَدِيثُ الْجُنُودِ – 85:17
Hal ataaka hadiitsul junuud(i)
17. "Sudahkah datang kepadamu berita kaum-kaum penentang,"
Has there reached you the story of the soldiers –
---
فِرْعَوْنَ وَثَمُودَ –
85:18
Fir'auna watsamuud(a)
18. "(yaitu kaum) Fir'aun dan (kaum) Tsamud?"
[Those of] Pharaoh and Thamud?
---
بَلِ الَّذِينَ كَفَرُوا فِي تَكْذِيبٍ – 85:19
Balil-ladziina kafaruu fii takdziib(in)
19. "Sesungguhnya orang-orang kafir selalu mendustakan,"
But they who disbelieve are in [persistent] denial,
---
وَاللَّهُ مِن وَرَائِهِم مُّحِيطٌ – 85:20
Wallahu min waraa-ihim muhiith(un)
20. "padahal Allah mengepung mereka dari belakang mereka."
While Allah encompasses them from behind.
---
بَلْ هُوَ قُرْآنٌ مَّجِيدٌ – 85:21
Bal huwa qur-aanun majiid(un)
21. "Bahkan yang didustakan mereka itu ialah Al Quran yang mulia,"
But this is an honored Qur'an
---
فِي لَوْحٍ مَّحْفُوظٍ – 85:22
Fii lauhin mahfuuzh(in)
22. "yang (tersimpan) dalam Lauh Mahfuzh."
[Inscribed] in a Preserved Slate.
---
==> | Juz Amma | <==
---