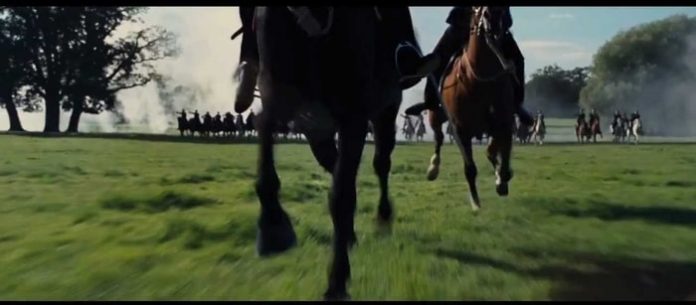 Surah Al Adiyat (Berlari kencang)
---
بِسْمِ اللَّهِ الرَّحْمَٰنِ الرَّحِيمِ
Bismillahirrahmaanirrahiim(i)
"Dengan menyebut nama Allah Yang Maha Pemurah lagi Maha Penyayang"
In the name of Allah, the Entirely Merciful, the Especially Merciful.
---
وَالْعَادِيَاتِ ضَبْحًا – 100:1
Wal 'aadiyaati dhabha(n)
1. "Demi kuda perang yang berlari kencang dengan terengah-engah,"
فَالْمُورِيَاتِ قَدْحًا – 100:2
Fal muuriyaati qadha(n)
2. "dan kuda yang mencetuskan api dengan pukulan (kuku kakinya),"
And the producers of sparks [when] striking
---
فَالْمُغِيرَاتِ صُبْحًا – 100:3
Fal mughiiraati shubha(n)
3. "dan kuda yang menyerang dengan tiba-tiba di waktu pagi,"
And the chargers at dawn,
---
فَأَثَرْنَ بِهِ نَقْعًا – 100:4
Fa atsarna bihii naq'a(n)
4. "maka ia menerbangkan debu,"
Stirring up thereby [clouds of] dust,
---
فَوَسَطْنَ بِهِ جَمْعًا – 100:5
Fa wasathna bihii jam'a(n)
5. "dan menyerbu ke tengah-tengah kumpulan musuh,"
Arriving thereby in the center collectively,
---
إِنَّ الْإِنسَانَ لِرَبِّهِ لَكَنُودٌ – 100:6
Innal insaana lirabbihii lakanuud(un)
6. "sesungguhnya manusia itu sangat ingkar, tidak berterima kasih kepada Tuhannya,"
Indeed mankind, to his Lord, is ungrateful.
---
وَإِنَّهُ عَلَىٰ ذَٰلِكَ لَشَهِيدٌ – 100:7
Wa innahuu 'alaa dzaalika lasyahiid(un)
7. "dan sesungguhnya manusia itu menyaksikan (sendiri) keingkarannya,"
And indeed, he is to that a witness.
---
وَإِنَّهُ لِحُبِّ الْخَيْرِ لَشَدِيدٌ – 100:8
Wa innahuu lihubbil khairai lasyadiid(un)
8. "dan sesungguhnya dia sangat bakhil karena cintanya kepada harta"
And indeed he is, in love of wealth, intense.
---
أَفَلَا يَعْلَمُ إِذَا بُعْثِرَ مَا فِي الْقُبُورِ – 100:9
ِAfalaa ya'lamu idzaa bu'tsira maa fiil qubuur(i)
9. "Maka apakah dia tidak mengetahui apabila dibangkitkan apa yang ada di dalam kubur,"
But does he not know that when the contents of the graves are scattered
---
وَحُصِّلَ مَا فِي الصُّدُورِ – 100:10
Wa hush-shila maa fiish-shuduur(i)
10. "dan dilahirkan apa yang ada di dalam dada,"
And that within the chest is obtained,
---
إِنَّ رَبَّهُم بِهِمْ يَوْمَئِذٍ لَّخَبِيرٌ – 100:11
Inna rabbahum bihim yauma-idzil lakhabiir(u)
11. "sesungguhnya Tuhan mereka pada hari itu Maha Mengetahui keadaan mereka."
---
==> | Juz Amma | <==
---
---
---
Terimakasih sudah mengunjungi situs kami. Jika terdapat kesalahan penulisan pada artikel atau link rusak, menampilkan iklan tidak pantas dan masalah lainnya, mohon laporkan kepada Admin Web (Pastikan memberitahukan link Artikel yang dimaksud). Atau bagi anda yang ingin memberikan kritik dan saran silahkan kirimkan pesan melalui kontak form di halaman Contact Us atau kirim melalui form dibawah ini.
---